This is how the handrail sections look when they arrive at your house. They are ready for installation and only need to be fastened between the posts. This easy to install handrail system is a great way to quickly add rustic mountain charm to your home.
Click here for installation instructions.
How Are Branch Railings Built?
The image below is one of the first handrail sections made for this home. Handrails arrive pre-assembled, painted and finished so all you have to do is put them in place! It is an easy solution for rustic handrails in your home.

This next section of railing is designed for use on the slope of the stairs. It is carefully measured and cut to fit your precise measurements. These sections are very easy to install.
Below is another section for the slope of the stairs. Notice how the sticks seem to flow with the angle of the handrail.

This next picture shows the more common handrail section meant for flat surfaces and not traditionally used on the slope of stairs like the sections in the previous two pictures. Mountain laurel handrails look great in any setting; inside or out.


These Mountain Laurel Handrails come easy to install and look great. If you are thinking about adding a rustic look to your home, Mountain Laurel handrails are a perfect fit.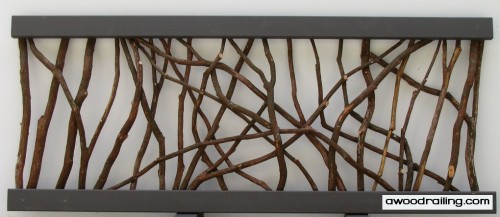 These rustic handrails can come in all different shapes and sizes and suit just about any home environment. The installation can easily be completed in no time at all.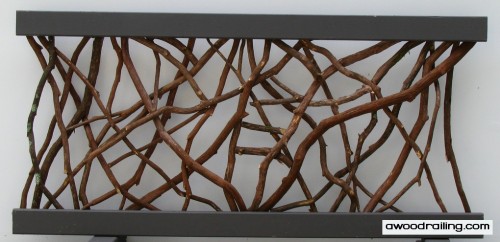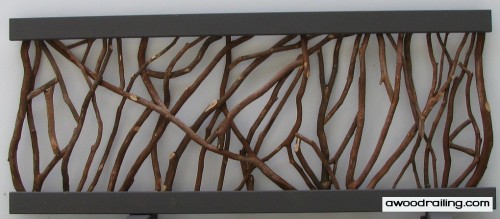 Handrails are made to the exact measurements that the consumer gives to me. I make sure that there is a little excess  so that the installer can trim them down if needed.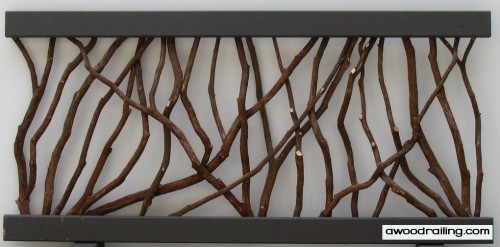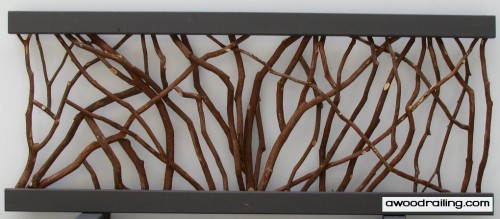 This next handrail is a prime example of the 'Sunburst' design that is perfect for the centerpiece of any handrail design. This is just one of many custom designs that make Mountain Laurel handrails a perfect fit for your home.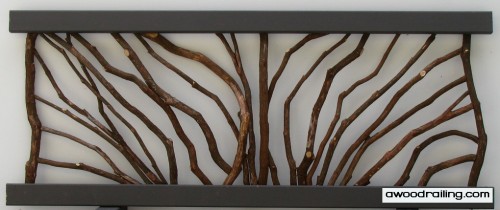 Each section of Mountain Laurel handrails are unique in every way. These handrails add a rustic flare to any type of home.