Decks are often the focus of any outdoor living space in the home. These are the places where families and friends gather to share in the outdoors and grill some food. With all the socializing going on, here are some tips to accent your deck railing.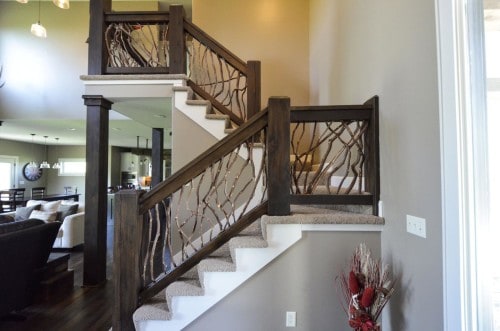 Mountain laurel handrails are a quick and easy way to rapidly replace your boring deck railing. Each of these wood railings is a unique work of art that is created by master craftsmen. If you're looking for a way to rapidly improve the appearance of your deck and add to its style, then you've found it!
Check out railing panels. These laser-cut steel panels are available with all different kinds of scenes cut in them, from trees to kayaks. The panels fit in grooves in the posts and are a unique feature on any deck. They can be installed on the entire deck or, alternatively, one or two can be installed as a focal point.
Solar post lights are a quick and easy deck railing upgrade. These add nighttime ambiance and are also a nice safety feature when you have to navigate poorly lit stairs at night. A small solar panel gathers electricity during the day and stores it to power LED lights later. They are readily available in multiple styles and are easy to install with no electrical wiring required.
Planters are available that attach to wood railing. These can add some floral flourishes to your deck and will free up some space. There are many different styles, sizes, shapes and colors to choose from so there is sure to be one to match your taste. They're easy to install and a quick way to add a splash of color or a fragrant herb garden.
Patio misters are the perfect treat to cool down an overheated deck during the summer. The nozzles deliver a fine mist of water which helps to make you feel cooler. Again, these are available in multiple different sizes and configurations.
Rope lights are another great way to add some after-dark flair to your deck railing. You've seen these installed and they look like they are guiding the way. They are a festive touch to your deck.