It's been a while since I went to the Lissara Lodge and witnessed firsthand all the great work they were doing. I caught up with them recently and got a bunch of new pictures of the decorative deck railing to share.
This video is from a while back, but it nicely captures the unique appeal about Mountain Laurel Handrails. On a rainy day like this, looking over the deck railings at the lake, the distinction between the deck and the lake slip away. It would be quite relaxing to cozy up next to a warm fireplace!
Rain Showers Over the Lake Railing – Video of Rainy Day Railing
As you can see, the Lodge overlooks the Lake at Lissara.
I think this is a particularly nice picture of spring!
Mountain Laurel Handrails blur the lines between the built and natural environments and make you feel like you're part of the scene around you!
Party on the Decorated Deck by the Lake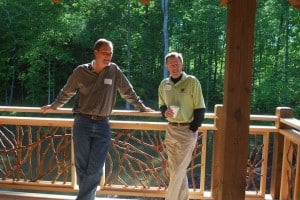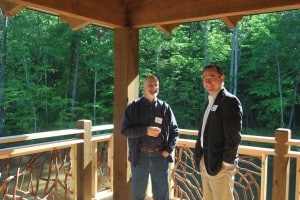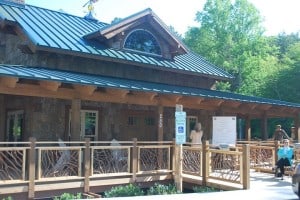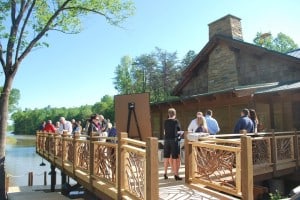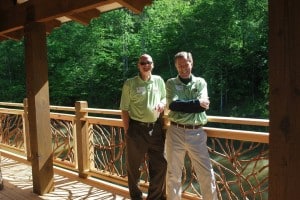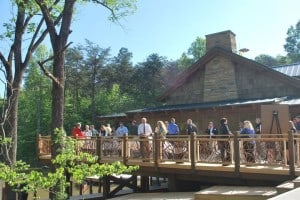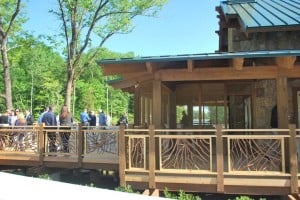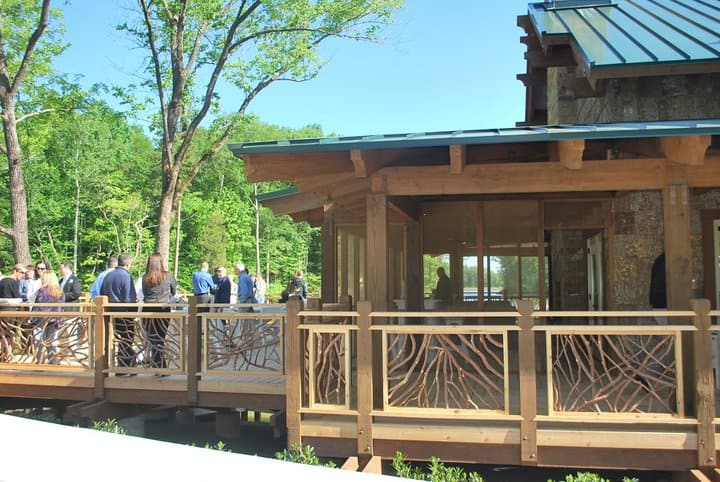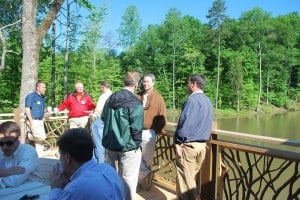 Rekindle memories of summer with these pictures of a party on the deck at the Lissara Lodge. Enjoy beautiful Carolina Blue skies overlooking the lake!
Original post from April 16, 2011:
The Lake at Lissara opened up just in time for the Parade of Homes this past weekend. Check out this article in the Winston-Salem Journal.
I know it's been quiet over here… It's because the wood railing artisans have been working on deck railing plans and crafting a project for the Lodge at The Lake at Lissara. This is going to be an incredible building in just a few short weeks. Ready to install handrail sections are going to be framed by a handrail design that is as unique as woven mountain laurel.
There is a lot of work put in both by myself and the mastermind at Lissara in getting all the details right and ensuring that the finished product will be a perfect match for its creator, Bob Timberlake.
So if you're curious what 225 linear feet of framed railing sections looks like packed like sardines into a moving truck, here it is. Rental moving trucks are no fun to drive. This one was so loud from road and wind noise that it left your ears ringing and the steering was so bad you could hardly adjust the radio.
But it was well worth it when I got to check out the great work that's going on at the Lodge. the woodworkers there have built a beautiful timber great room with a huge 12″ x 22″ yellow pine beam as the main ridge; it weighed 3000 pounds. The decking is cypress and the siding is of poplar bark. This is the view from across the lake that is more than a half mile long.