Some of you might remember a recent wood deck railings project I posted that was installed at the Summer House in Highlands, NC. I passed by there recently and noticed that the painters had been through and work was about complete on their new Idea House Showroom. The sticks and branches on these custom railings have been painted to match the color scheme. I love this picture with the timber frame porch railings in front with the green of the forest beyond.
The left picture shows a wood railing section before it was delivered. Each section was carefully painted before being delivered. It's quite time consuming and requires a delicate hand to avoid errors. But painting the sticks is a great way to get the look that perfectly matches your colored schemes. Sticks can also be stained and this is another good way to add another level of customization to your Mountain Laurel Handrail project.
Contact me today to learn more!
I seriously just noticed that these railings were repainted after we installed them. In the picture directly above you can see that the cedar 2x4s have been painted a light gray but in the pictures after all work on the project had been complete, the lumber is a much brighter white to match the windows and doors. I think this looks much nicer than the original color which would have matched the color of the posts. The white lumber gives the sticks plenty of contrast to set them off!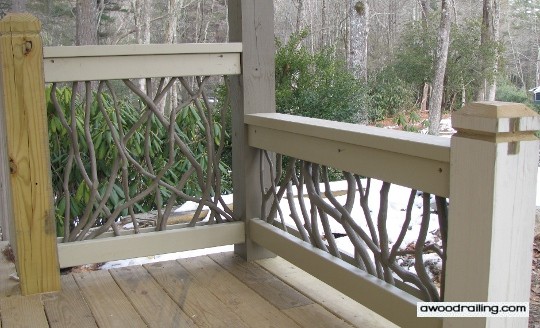 The designer on this project has a strong eye for detail and color. She brought together many local crafters to work on this project. She also keeps many of these items available in her store and is ready to help with design and decor suggestions and ideas. On the right is another picture when there was snow on the ground. White snow and the evergreen forest make a great backdrop.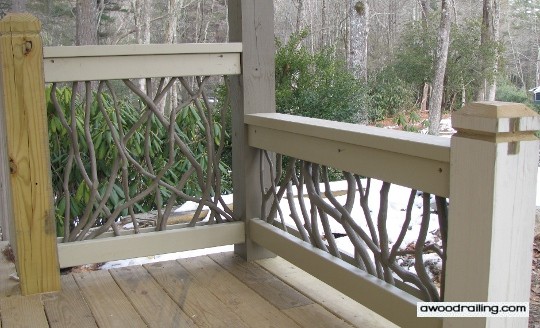 contact me today to get started on your new deck railing.