Mountain Laurel Handrail Products

The most common application for Mountain Laurel Handrails is on exterior decks, and they're a perfect fit for a variety of styles. Whether it's a porch covered over with a roof and timber frame structure or a deck that's open to the air above, this type of rail adds rustic style unlike any other. With a clean and natural look, Mountain Laurel Handrails give a finished and polished feel to any exterior deck. The sticks will be red when the sections arrive but will weather to a lovely silver color. However, the red color can be preserved with the regular use of a penetrating stain in the color named "Natural".
While the most popular use for Mountain Laurel Handrail is outdoors, these railings certainly have a place indoors as well. For the ultimate in a grand staircase foyer and balcony railing, the natural curved shapes of Mountain Laurel Handrail add cachet to the average design and lend grandeur to the designer's vision. Designers and architects realize the importance of breaking up space to give a correct proportion. Take a look at this balcony handrail with an antler chandelier beyond it. This hangs in the foyer for a stunning style!
Just as they do outdoors, these handrails are able to give a space both a rustic and polished look. For a more unified home design, use Mountain Laurel Handrail on both the interior and exterior of the home.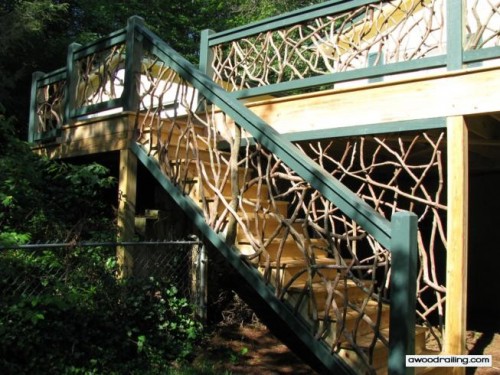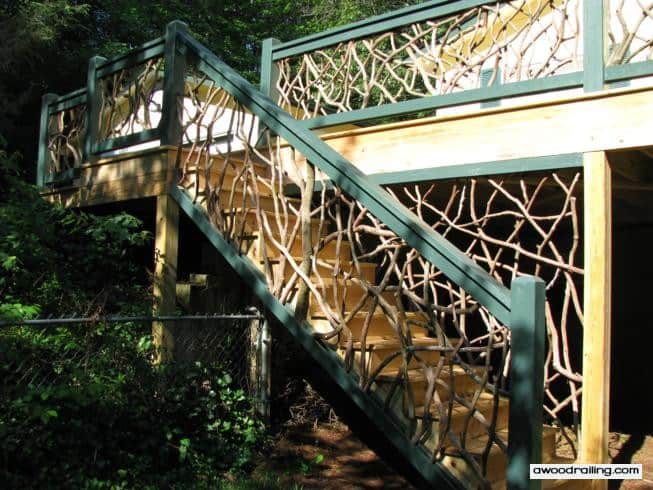 When building a new home, a detail that is often overlooked is the stair railings. But they are a very important element of the home, essential to travelling from level to level. Often these exterior deck stairs will lead to the backyard. This area can sometimes be manicured into a courtyard or landscaped with plants and bushes.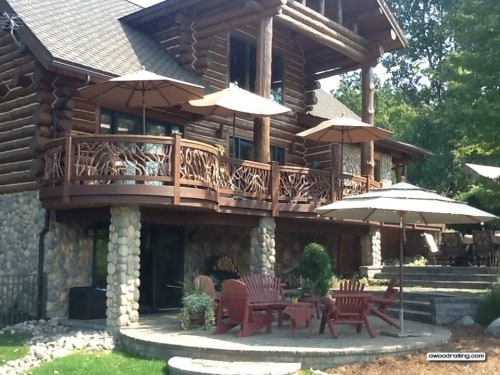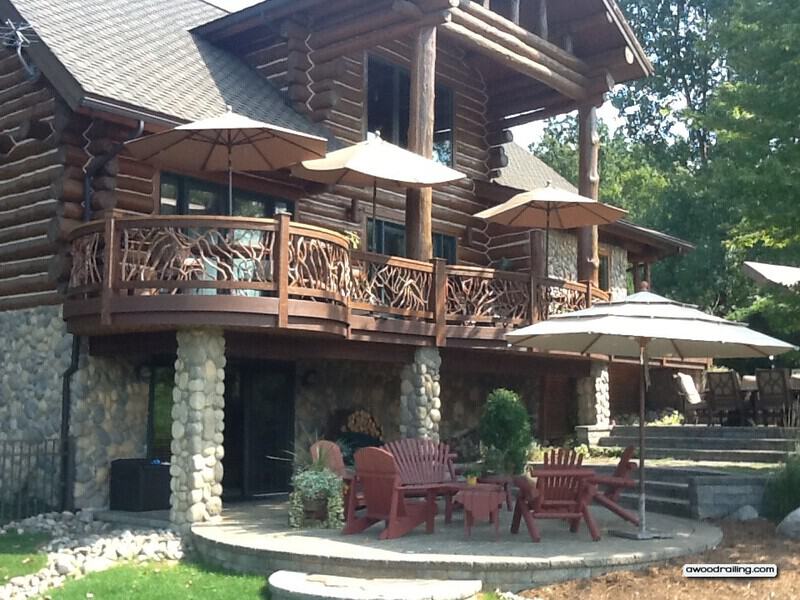 Mountain Laurel Handrails strive to create the best, most unique pieces for our customers. This includes creating more complex designs than straight railings. Circular construction is the ultimate in difficulty since it requires the utmost of precision to execute. Curved railing on a curved deck is a great look, especially when combined with a log home or a grand timber frame. The curves of the architecture complement the curvaceous design of the handrails and give your deck a natural and comfortable look. Mountain Laurel Handrails are a perfect choice, not only for their style but also for their strong and durable natural appeal.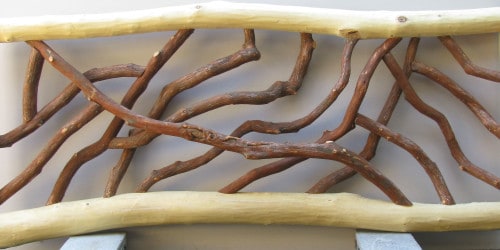 Log railing is already a unique design element, and it's made even better with Mountain Laurel Handrails. Break away from boring vertical rectilinear patterns and incorporate the natural, organic shapes of the mountain laurel branch. These natural shapes and designs truly feel at home in an outdoor setting.
The natural and rustic feel of Mountain Laurel Handrails doesn't only have a place outdoors. Mountain Laurel's beautiful furniture pieces will tie together any home décor. Not only is every piece of furniture practical and well built, but each piece is also unique. Taking the style of woven branches even further produces creative results in all kinds of furniture like headboards and tables. The curving sticks are displayed under glass as if one were viewing art hung on a gallery wall, promising that each of these pieces is truly a work of art. For a calming and natural feel in your bedroom, you can't go wrong with a rustic Mountain Laurel headboard. You can enjoy and admire this woodworking all around your home.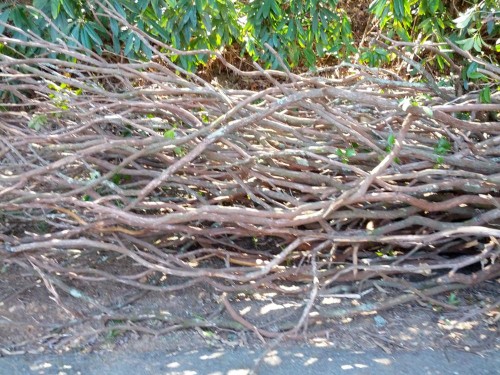 Mountain laurel branches are available for railing parts to do it yourself and build your own rustic handrail. Mountain Laurel Handrails are available shipped nationwide in preassembled sections but you can also buy material you may need for railing parts here.
When building a new home or remodeling your current one, one of the least considered but most important aspects is the guardrail. Guardrails can completely change the look of your home, inside and out. Interior or exterior, the design of the handrail often end up as very straight and linear elements. Vertical wood pickets are commonly used but cable rails with their strong horizontal lines are gaining in popularity. It's time to break away from these boring lines and add organic style with Mountain Laurel Handrails. These handrails are all unique and custom designed—no two are exactly alike! If you want your home to shine in a beautiful and subtle way, Mountain Laurel Handrails are the way to go. This custom wood railing is perfect for both the interior and exterior and the style can also be used for furniture.
Keep in mind before planning any home improvement project to involve a design professional early on in the process. This is the best way to bring your dream to reality as these professionals are trained to bring an idea onto paper and eventually into built reality.