The Benefits Of Artistic Railing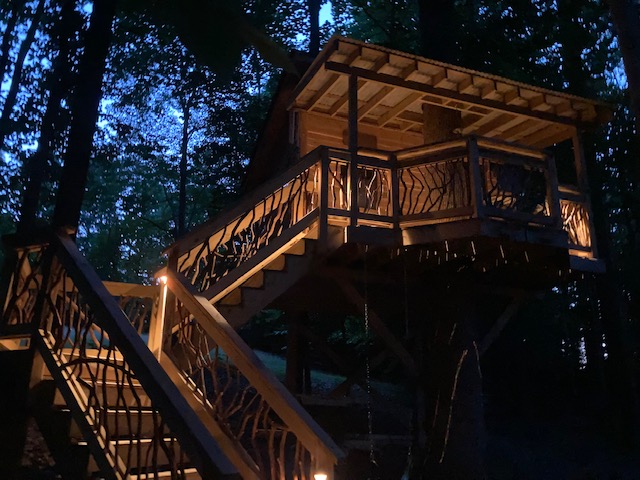 How We Use Artistic Railing To Serve Our Clients
Today, not many people take the time to slow down and enjoy the finer things in life. Whether it's the warm, inviting refuge offered by a roaring fireplace, or the refreshing crisp cool fall air, the connection to nature can calm even the busiest minds.
Here at Mountain Laurel Handrails, we offer some of the highest-quality, railing designs money can buy. And we're going to walk you through not only how artistic railing can add to the character of your home but how it can help make your space more enjoyable and peaceful than before.
Our job is to help homeowners like you take absolute ownership of your space by providing quality products that help accentuate the natural beauty of your property. Whether you've got a fantastic idea for curved railing or want to take the look and feel of your home to the next level with our indoor stair railings, Mountain Laurel Handrails will ensure your needs are taken care of.
Below we share how our team of skilled craftsmen was able to help one of our many happy customers with our premium products. We'll show you photos of a few projects so you can see how much more cohesive a space can look when paired with quality railing.
How Mountain Laurel Branches Can Transform Any Space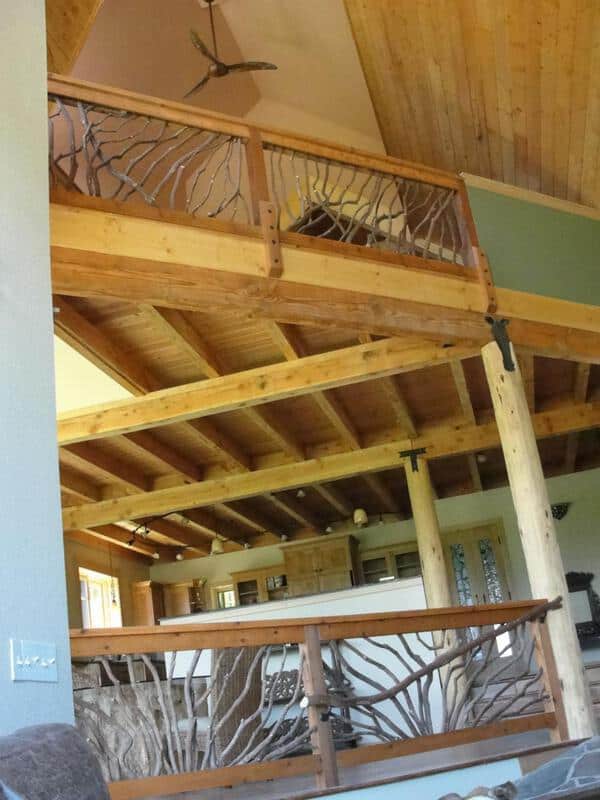 Artistic railings on a house's interior and exterior structures, with multilevel balconies, are a creative showpiece. This custom home design was in need of equally unique railings. With so many options in handrails, there are very few truly bespoke railing options, where everything is unique.
These artistic handrails all have different shapes and patterns since they are made with sticks and branches from the Mountain Laurel tree. These trees – also known as Kalmia latifolia – have long been prized as the most durable, long-lasting, sturdy, and elegant branches for use in the construction of premium handrails.
Architectural details, like glass windows and plank floorboards, create stark and stunning geometrical forms. At the same time, branches in the handrails soften the look with their sinuous shapes.
As a finishing touch, a long Mountain Laurel branch with its natural curve serves as a banister along the foyer steps. They enhance the beauty of your living place through their real designs, just like decorative elements. Artistic stairs like the ones pictured below, are an amazing way to add curb appeal to a home.
Request a Product Guide and Pricing Info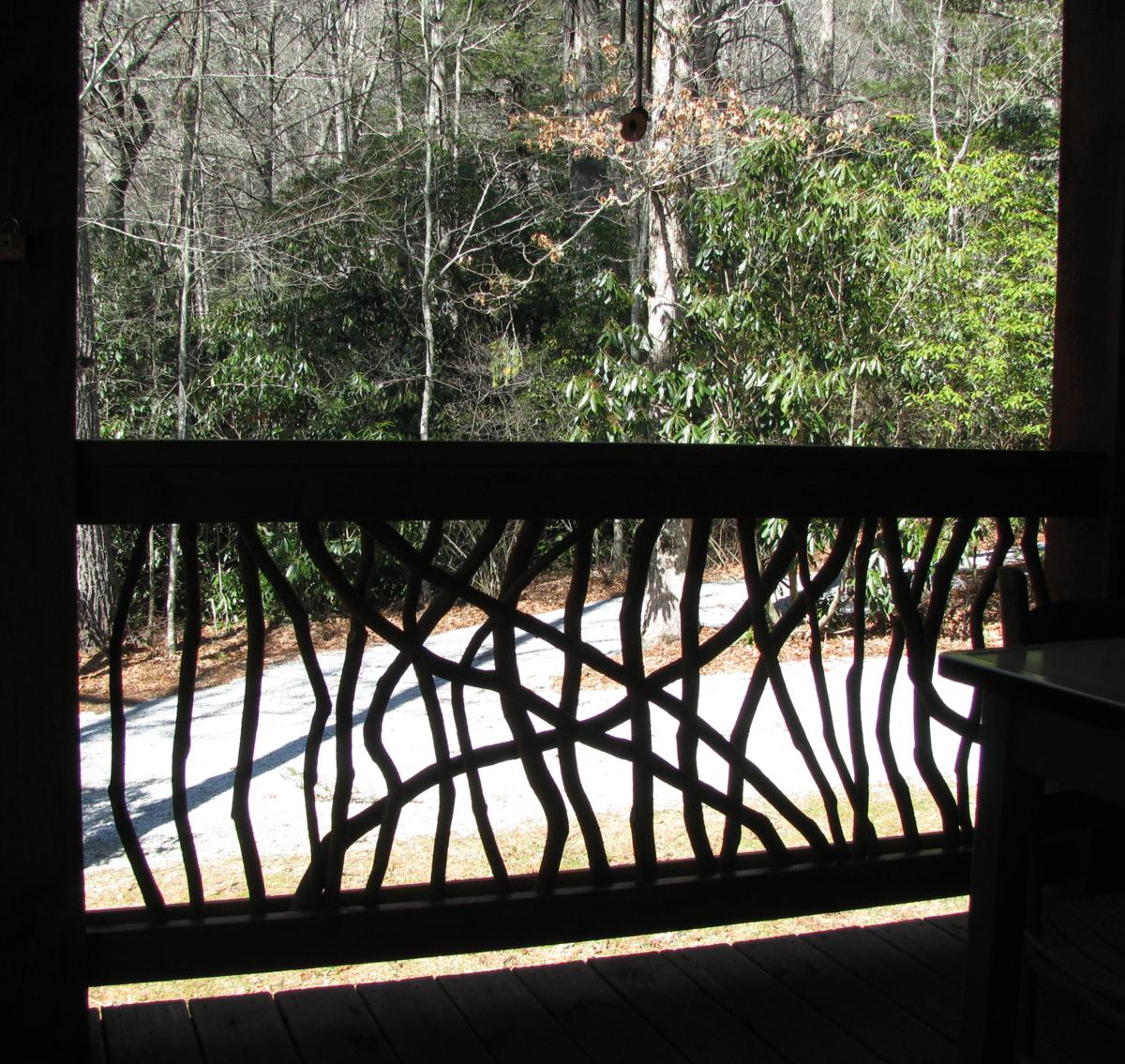 Handrails Made From Mountain Laurel Brighten Up Any Space
Notice in the picture how these railings convey spaciousness by opening up the view to the lower and upper balconies, decks, and stairs alike. Instead of looking at a half wall or boring vertical balusters, visitors focus their eyes on an artistic twig and branch railings with awe. In a lounge or hotel, they would give a classic look with artistic beauty that can enhance the curb appeal of any property.
Visitors would love to come closer to feel the easiness and beauty of the wooden structure. This creative idea can give an excellent look to the balconies of your rooms through their primitive design. In addition, because these products add curb appeal to any property, you can enjoy a continued return on investment as the value of the property increases.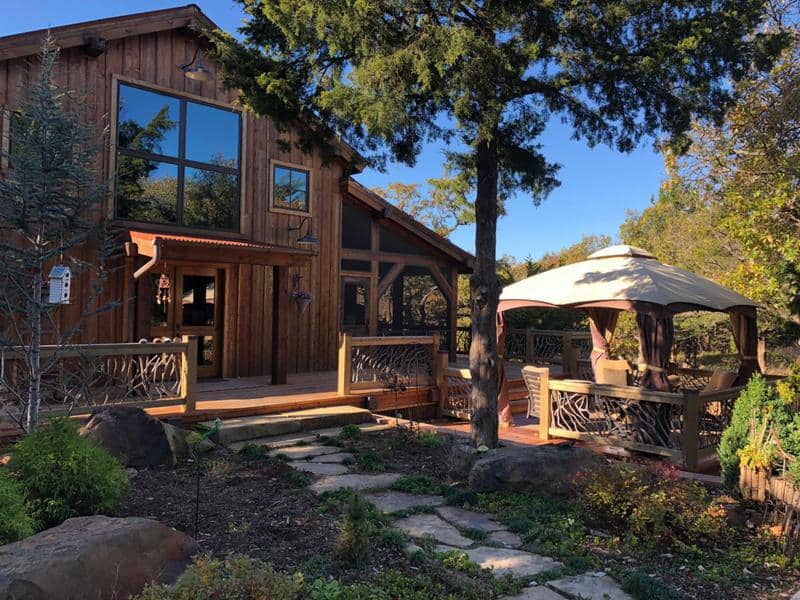 Most of us like to live in nature's soothing and peaceful company. Given that these railings are great for both interior and exterior use, if you want to improve the aesthetic and atmosphere of a resort for guests, artistic stairs and railings created by our skilled craftsmen can be the perfect way to do just that.
Our railings would best suit the outside balconies stairs and areas of the resort garden where you can enjoy the natural scenery. Our products' open and spacious look helps to open and brighten up any space or structure. We here at Moutain Laurel Handrails take pride in working alongside our customers to create a breathtakingly beautiful and open environment. In addition to this, we also ensure that the basics of railing design and construction are met and even surpassed.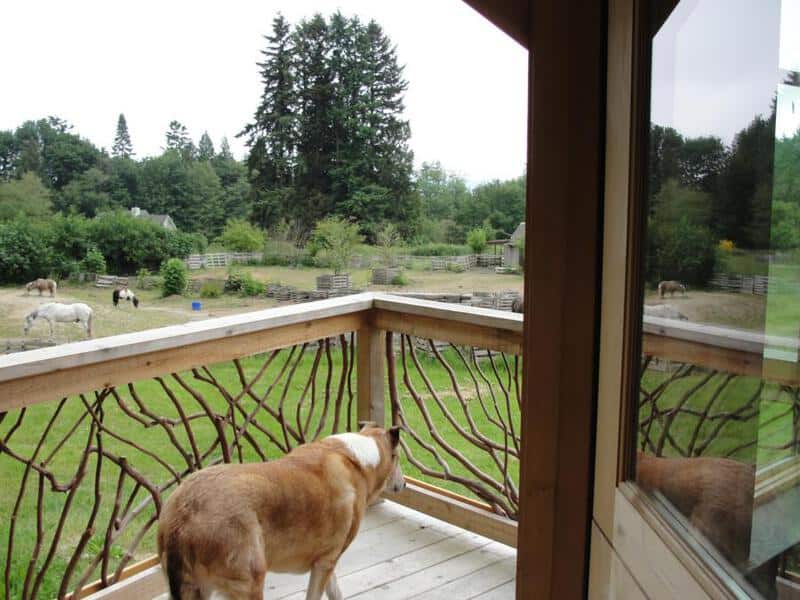 Unify Your Home & The Great Outdoors
The artistic railings on the exterior balconies coordinate seamlessly with those in the interior for a cohesive look. That's the beauty of Mountain Laurel Handrails – whether inside or out, they provide a balance that can't be matched. Incidentally, the curious dog appears very content, enjoying the unobstructed view from the balcony.
Another hidden feature of the railing products we offer is that even those members of your family that are on the shorter side can enjoy the view. Whether dogs, or curious tots, every member of your family can enjoy the scenery safely, and effectively. Their beautiful construction with natural materials can enable your kids to watch any natural sight through the gap of whichever medium you decide on for your railing project.
For this client, we needed to develop a design that would creatively utilize the environment's strengths to arrive at a unified and complementary whole. The project here was unique in itself as it incorporates exciting creative challenges. A warm and natural wood railing in the form of branches gives the balcony and stairway a soft and organic appearance.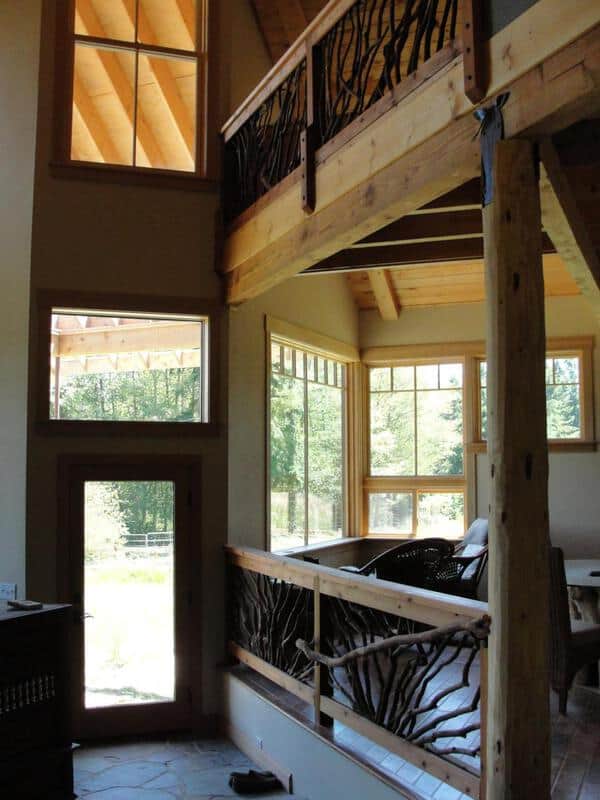 Request a Product Guide and Pricing Info
Custom Railing: Safe, Functional & Artistic
In the picture above, the railing functions as a divider and safety feature for the split-level, sunken room. But that's not all. Mountain Laurel Handrails filled with uniquely shaped branches stands out as a work of art. Here, meandering twigs cluster in the center on the bottom rail and then flare up and out, creating a picturesque design. What could have just been simple and boring metal railing, has instead become an integral part of the design and personality of the home.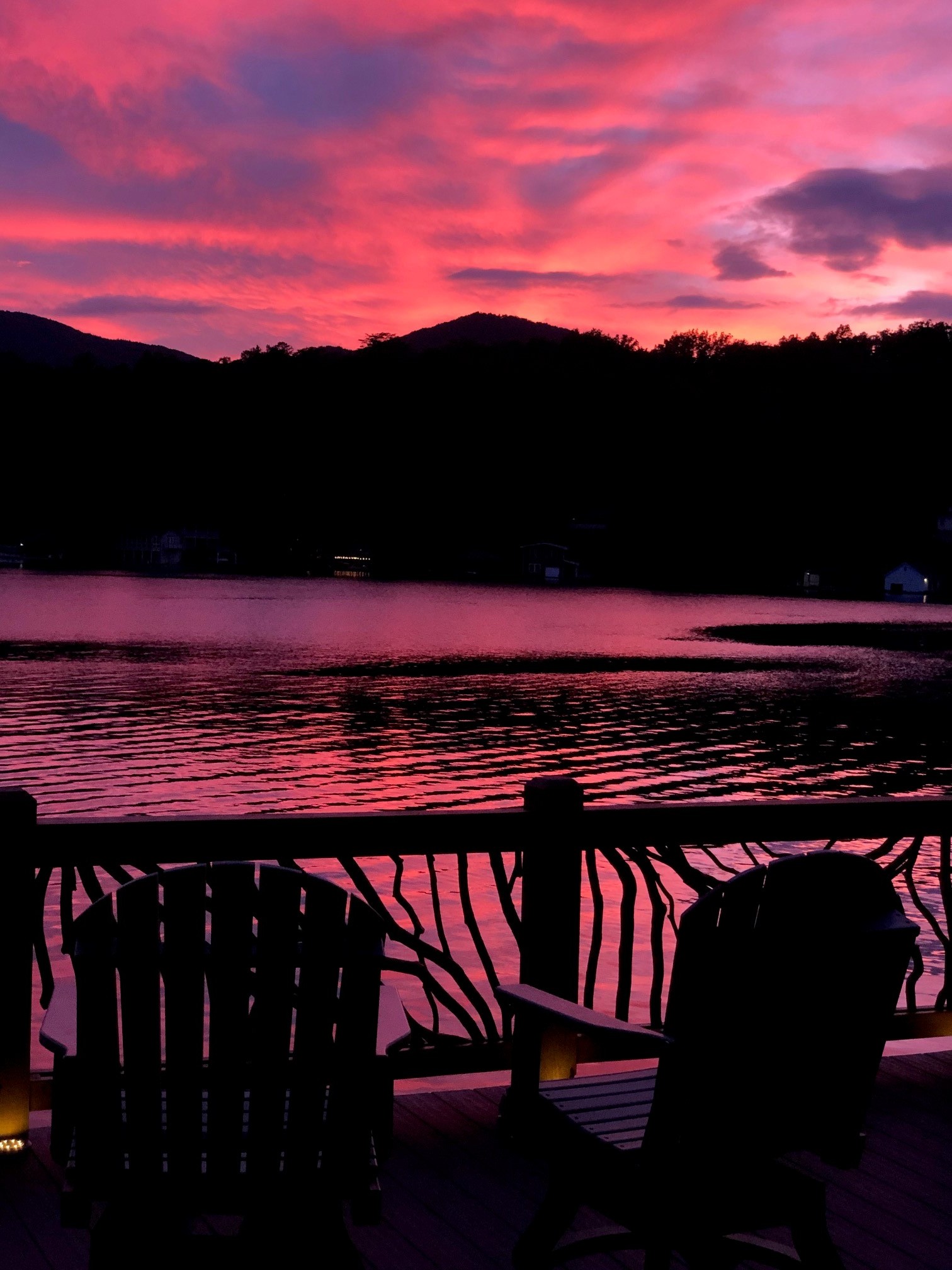 Mountain Laurel Handrails can help you determine the perfect dimensions for your railing project. We even offer comprehensive
installation information
that will help you during the installation process of your railing. You can choose the height and width of the railing as per your need and choice. We will say that – whether it's for stairs, a deck or a balcony – railing too short can be a danger to the safety of yourself and others. Similarly, however, being too tall can take away from the view and beauty of your home. So, it is better to properly plan for a suitable height and width of the railings in your home. We have resources to help ensure you order the properly sized materials.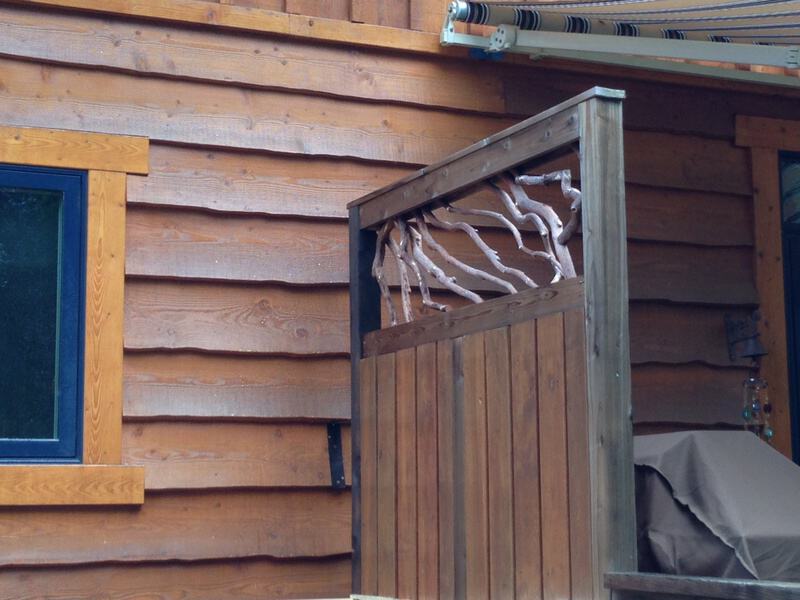 These Railings Blend & Mesh Well With Nature
One of the amazing things about railings that we offer that you might not even think about is how they catch the light at various times throughout the day. As each day progresses, the character of the handrail also changes since the light strikes every part of the railing differently.
Most homeowners like to incorporate various components into the design of their homes that have a natural and almost life-like quality to them. The railing on your stairs and deck is no different. They may fail to get that look if they use steel, iron, or mortar for this purpose, as these materials are made perfectly every time. That perfection leads to a boring, predictable style that starkly contrasts the nature outside of our front doors.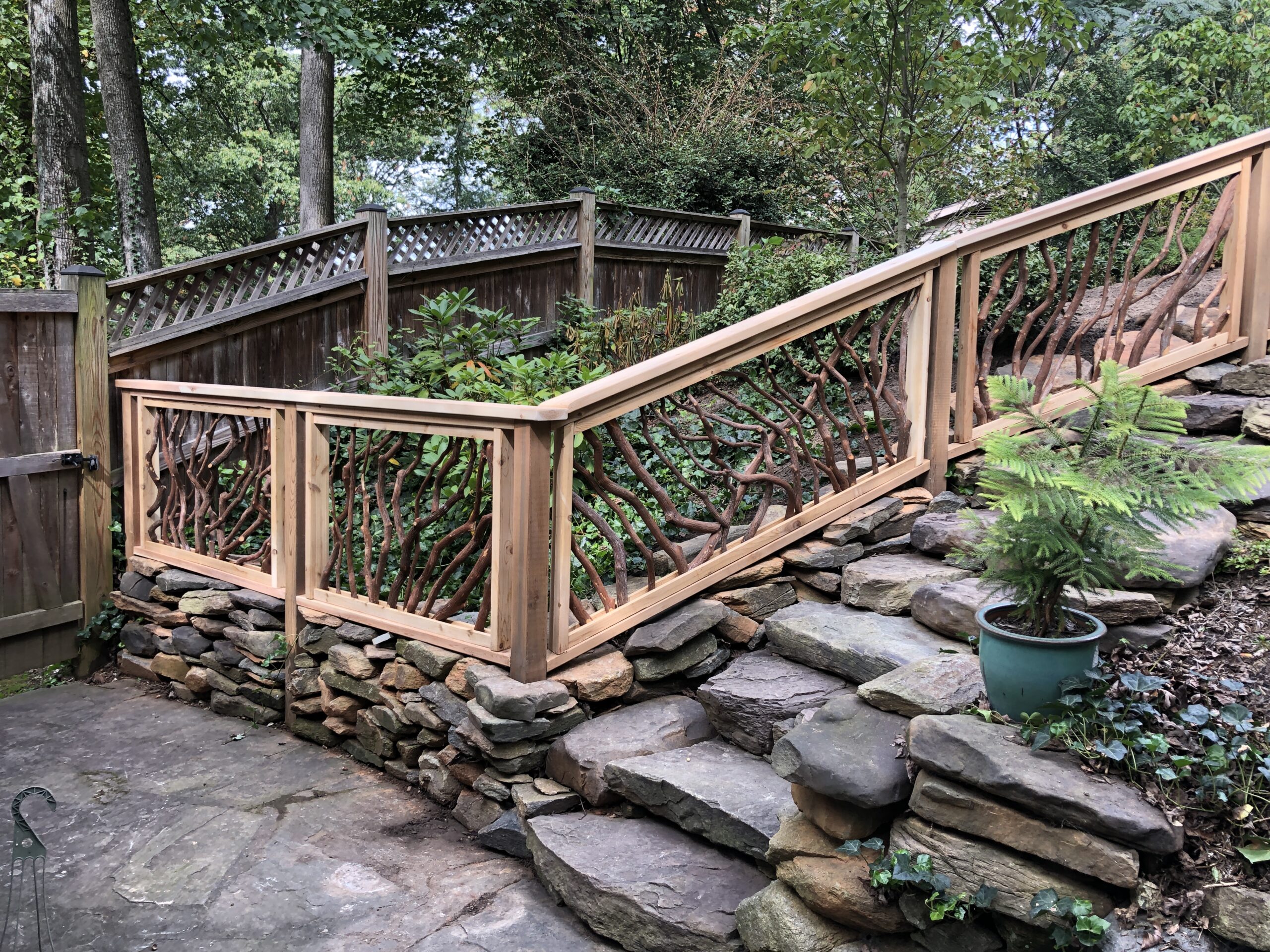 For people that find their solace in nature, and want to be constantly reminded to put down their phones, look outside and enjoy their time here, organic materials like wood and stone are a perfect reminder that not everything has to be perfect all of the time. The branches used in these photos are made with the tree we referenced above – the Mountain Laurel tree. The branches from this tree are incredibly strong, durable, and organic in appearance, and has even been used for furniture for hundreds of years. 
Some people love artwork and like collecting such items at home. They often search for these designs to make their office or living place look like an ideal symbol of art. The customers we delivered these unique guardrails to were more than pleased, as it meshes together perfectly with the rest of their home. With the exceptional beauty offered by Mountain Laurel Handrails, you would be hard-pressed to find an environment our railings can't spruce up – no pun intended!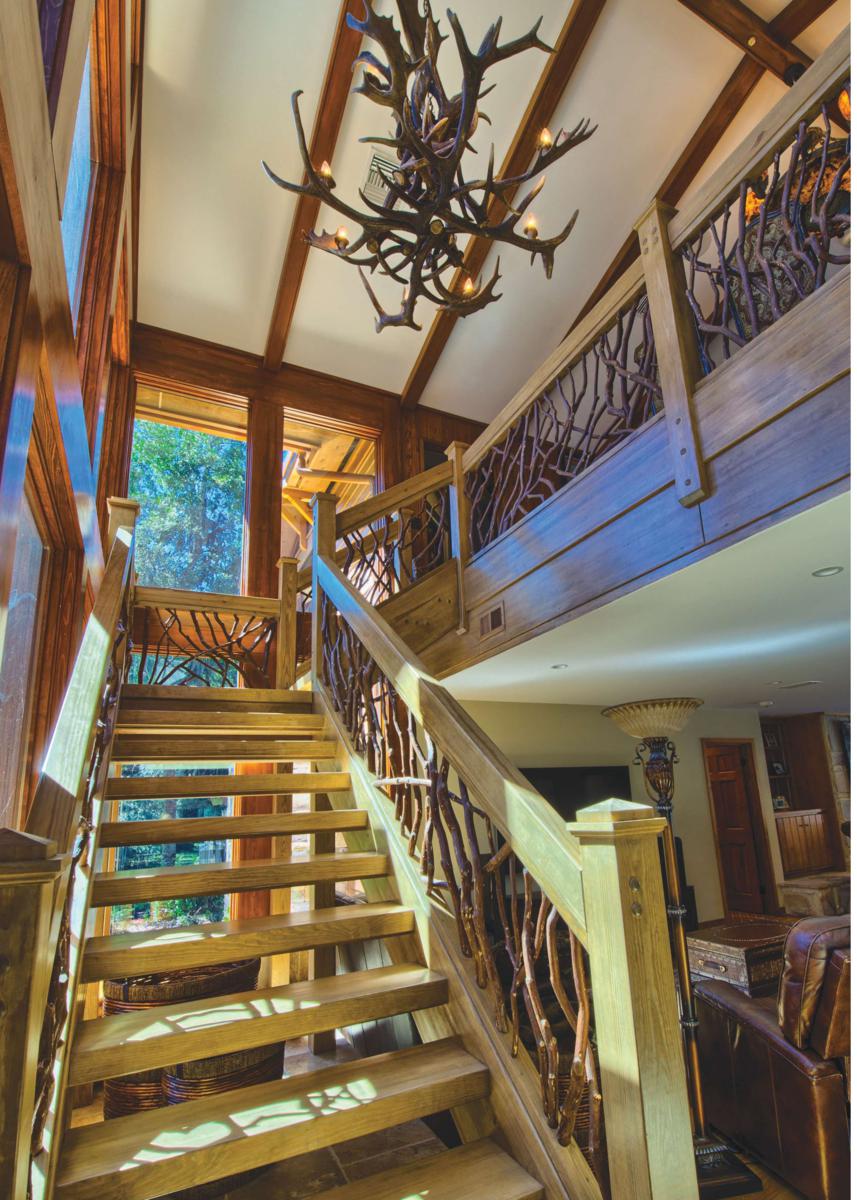 Railings like these on the interior and exterior balconies and stairs are much more than a safety element—it makes the most creative and attractive design feature. Carpenters working in woodshops nestled in the Smoky Mountains produce magnificent custom railing for your deck, balcony, and stairs. In this picture, you can see the railing giving the home a classical and organic look.
In the morning or evening, while drinking your coffee or tea, sitting near these creative works, you can benefit from the unique atmosphere that is your home. Whether your project entails artistic stairs, balconies, decks, or partitions, Mountain Laurel Handrail has the expertise and reliability needed to make your dreams a reality.
No matter which wood product chosen for your project, the same feeling you get wandering through vast, lush forests can be brought into your home. Whether you're headed down the stairs and out the door to work, or sitting on the deck with your morning coffee, you deserve an environment that reminds you of what's truly important.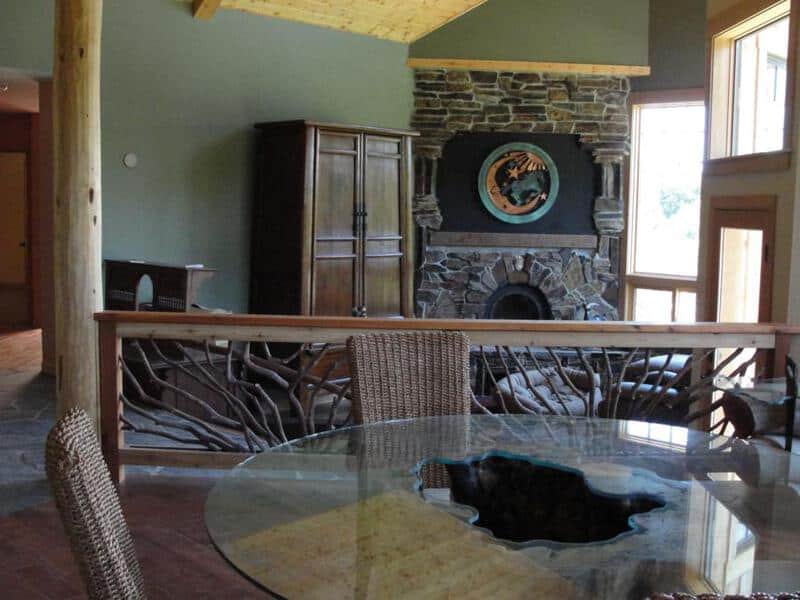 Mountain Laurel railing, with its aesthetic form and appearance, solves many purposes simultaneously. Apart from enhancing the elegance and grace of your living place or office, they give your building a different style and form. With appropriate maintenance and care, these premium sourced products can last many, many years. If you're a fan of both art and nature, these products are an amazing way to enhance the beauty of any building.
Request a Product Guide and Pricing Info