Porch Railing for the Home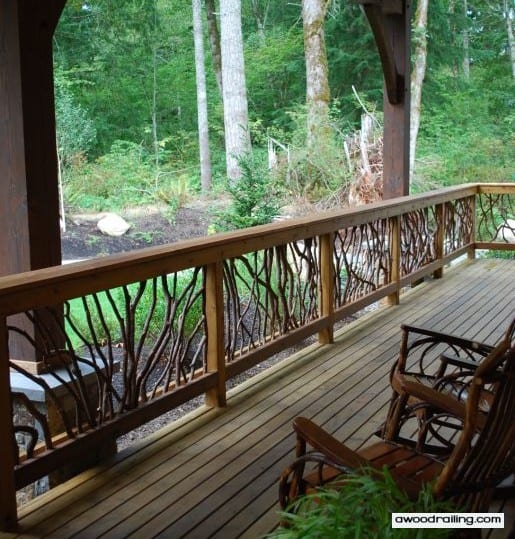 Porch railings are an important visual element in the style of any home. On many houses, the front porch is visible from the street and an artistic railing design makes a positive first impression. Some homes feature an expansive back porch that may have a nice view of the mountains or a serene river. A country manor may feature a wrap-around porch that goes for the perimeter of the building. Regardless of the porch location, the impact a porch has on visitors to the home is undeniable. A beautifully designed porch architecture with columns, entablature and balustrade in proper proportions will result in a strongly visually appealing design. Look here for some interesting deck railing ideas.
This is the first order that was shipped nationally by Mountain Laurel Handrails! About eighty feet of handrail was shipped to Washington State. Here's what the customer had to say: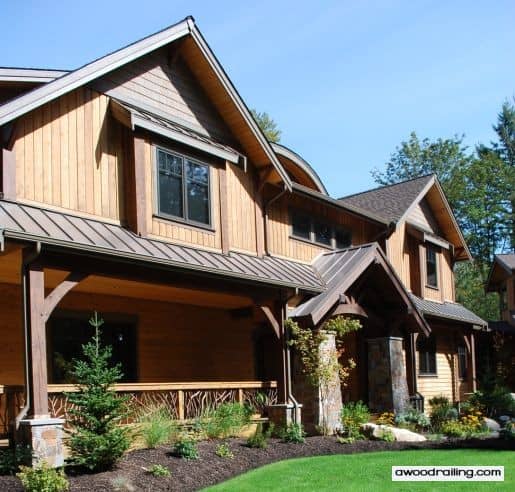 Before starting a project a comprehensive design should be completed. More work on design means less work in the field, or as my father told me, "Work with your brain or work with your back."  It's important to start the design process with  an idea of where you want to end up. With that in mind, here are five decorating questions to ask yourself:
What is the Architectural Style?
What Porch Railing Design do I prefer?
What type of Finish Material for deck and trim?
Should I Paint or Stain the exterior?
What is the Decorating Theme?
Request a Product Guide and Pricing Info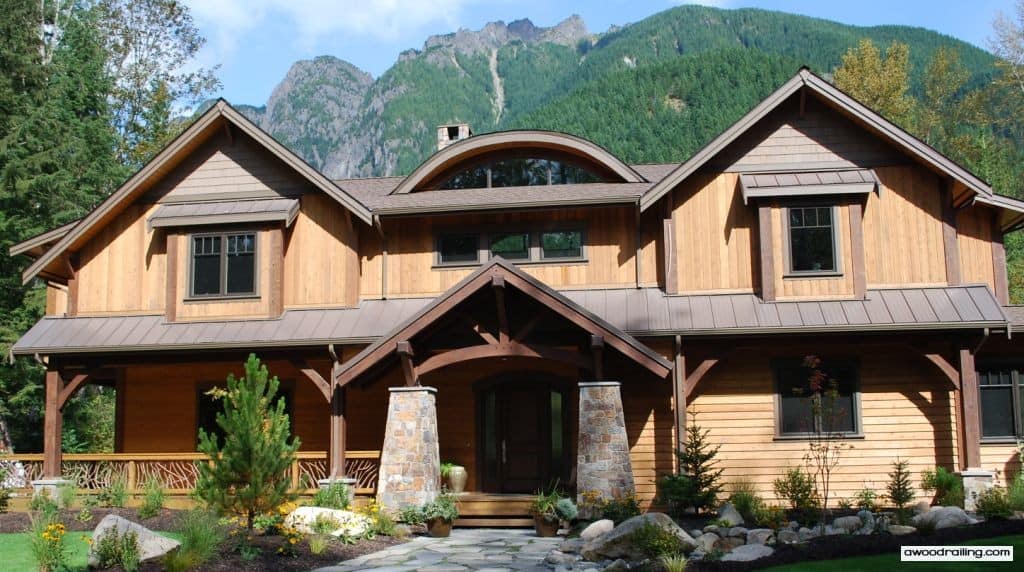 Here is an example of the above process. The first four pictures in this post are a timber frame lodge featuring plenty of wood in the floors, ceilings, trim and decorating elements. This defines the home's architectural style. The best porch railing design for this home is Mountain Laurel Handrail, a natural complement to rustic decor. If the deck is a special species of wood, like cedar or ironwood, this should be reflected in your decorating elements. Staining wood really brings out the natural beauty and grain as opposed to paint which is a coating. Choosing a decorating theme will depend on many factors like your life experiences. Maybe you were a hunter and want to display some big game. Or maybe you have a love of fine art and want to display works by crafters.  Adding decor elements like furniture is also important.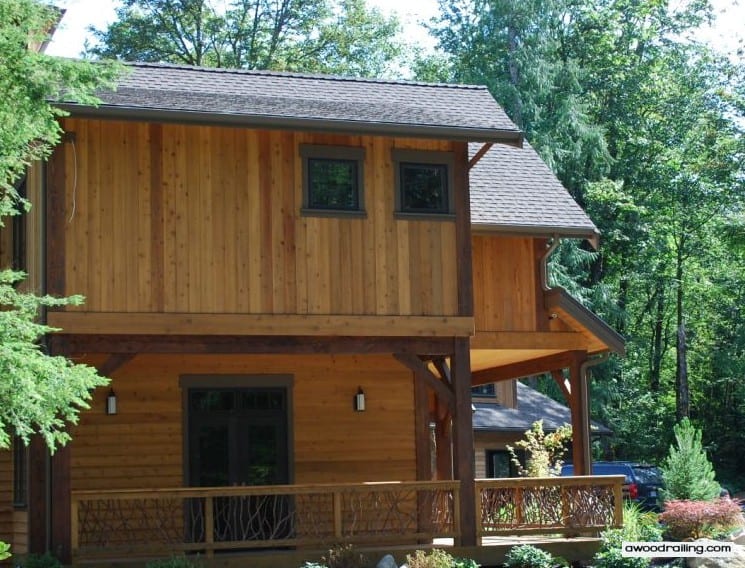 Once you have a general plan, get started on your design. Working with a design professional is always the best way to achieve the results that you envision as this person is trained and educated to guide you on your decision making process. If you decide to go it alone, you can still get great results by taking your time and paying attention to detail, like Mountain Laurel Handrails for your porch railing.
Hand Hewn Log Cabin Porch Railing
Hewn logs are cut with an adze or axe and have a rough look. This style is somewhere between a milled D-log and a whole round log. It's a traditional style that pairs nicely with Mountain Laurel Handrails as seen in this picture. These log home deck railings went to Missouri. The small fans installed on the ceiling are an interesting break from the staid ceiling fan. The red trim on the deck is mimicked on the top rail which looks like a 1×8. Beginning with design, this house pulled it all together and has the best handrail!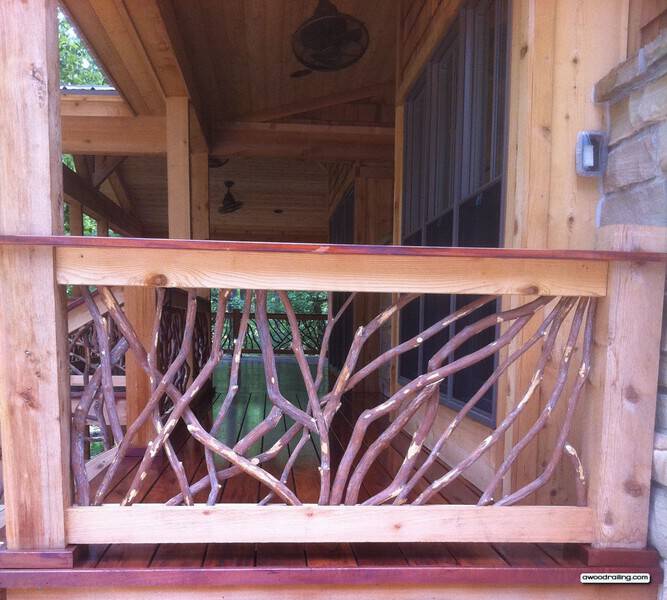 Request a Product Guide and Pricing Info
Mountain Laurel Handrails are custom built works of art. Like any project, a successful result is usually due to planning and hard work. This project was no exception. The homeowner, carpenter, brick mason were in regular communication with the Wood Railing Workshop to make sure that all the details were right.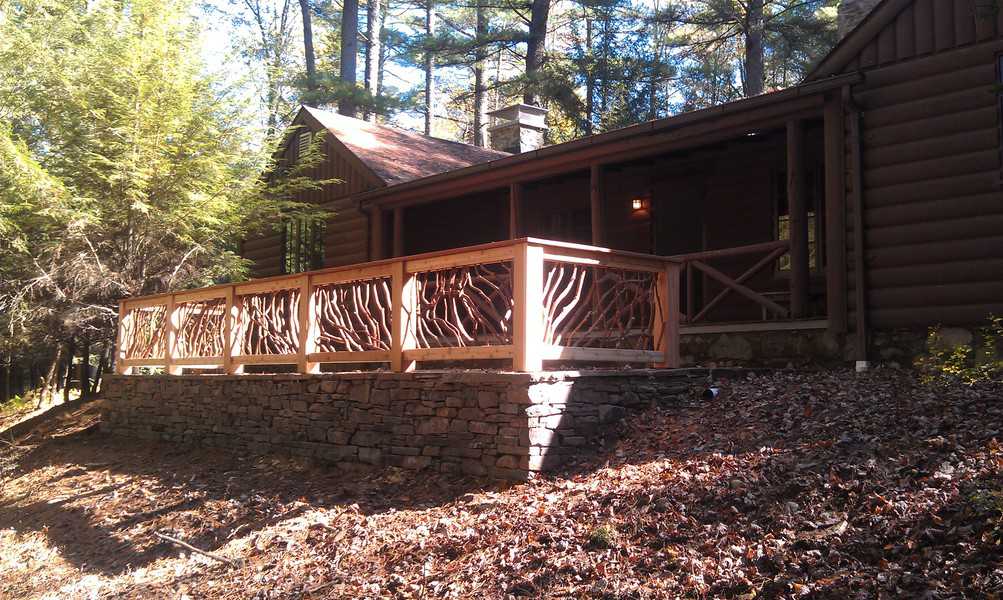 The result in this case is a wonderfully proportioned and well executed piece of architecture. This was an old stone porch that had fallen into disrepair and was in need of an update. Thanks to the homeowner for sending this picture of his home in Upstate New York.
Quickly Transform Your Home's Look
We shipped Mountain Laurel Handrails to some neighbors in Cherokee, North Carolina, and they were so thrilled with the railings they installed them the very same day! We see this excitement and enthusiasm for our handcrafted railings time and time again, and it's one of the many things that makes working with such a fine artisan product so rewarding. Our master woodworkers keep time honored craftsmanship alive, and the resulting product is unique, beautiful, and made to last. It's easy to love what you do when you know your customers are as excited as you are and the results are always so stunning.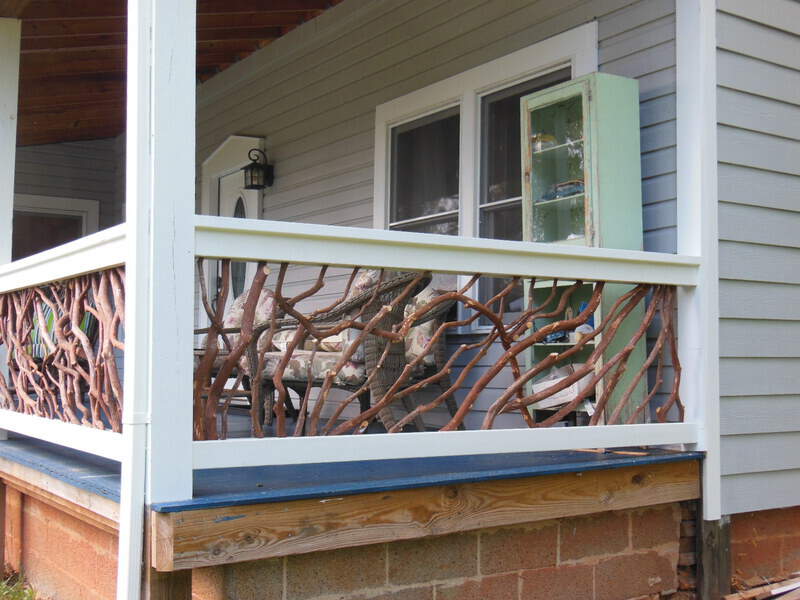 There aren't many ways to completely transform the look of a home in an afternoon. Most home projects require weeks or even months of living in a construction zone, but the Mountain Laurel Handrails are so easy to install, this project just took a day! The homeowners most likely sat out on the front that very night admiring the lovely new look of their home.
The railings complement the charming home perfectly, and the porch becomes an eye catching focal point. All they need now are a couple of bentwood rocking chairs so they can enjoy their beautiful house for many, many years. In an era when so many products are made to be almost disposable, a finely crafted real wood product keeps traditions alive and outlasts the mass produced products out there.
The beauty of the new railings is so eye catching, too! The red of the new branches really pops against the gray of the home and coordinates beautifully with the brick foundation, yet the handrail will look equally stunning as the branches age to more subtle silvery gray like the house. Homeowners often ask how to preserve the stunning red of the. Keeping the color vibrant and new is as simple as regularly applying a penetrating "natural" colored stain. Many of our customers choose to do this, but we think the soft silvery color of aged railings is beautiful, too.
Buying from local artisan small businesses helps the economy thrive as well, so a Mountain Laurel Handrail product makes customers feel good while making their home look awesome too. Each woodworker puts their whole heart into their work, and that pride is built into every uniquely crafted detail. To top it all off, these are entirely Made in the USA! Between the beautiful, rustic charm, the ease of installation, and the commitment to local woodworkers, it's easy to see why these customers were so excited to install the railings as soon as they arrived!
Request a Product Guide and Pricing Info